Rallying for Change
by Carol Broomhall | March 3, 2016 7:41 pm
On March 2, 2016, a group of individuals and staff from BACI participated in a rally at the Metrotown Skytrain Station — one of 3 rallies held in Metro Vancouver focusing attention on the recent decision by the BC Government to claw back the cost of transportation from a small $77 increase in disability benefit rates.
More information on the the issue can be found here[1].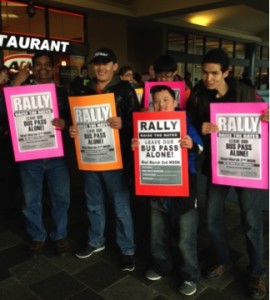 [2]
Endnotes:
here: http://inclusionbc.org/disability-supports/whats-new/news-release-raise-rates-leave-our-bus-pass-alone
[Image]: http://gobaci.com/wp-content/uploads/2016/03/Rally.jpg
Source URL: http://gobaci.com/2016/rallying-for-change/
---
Click to listen highlighted text!