BACI Donation Bins
by admin | March 18, 2015 10:29 pm
It's never "bin" easier to make a difference in our community!
BACI is excited to partner with InclusionBC[1], Value Village and the Sharing Our Future Foundation (SOFF) in a clothing donation bin initiative that will benefit the children, youth and adults we serve. 
How do BACI Bins work?
[2]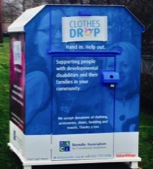 BACI has placed outdoor donation bins in key locations around Burnaby and at one location in East Vancouver.
If you have clothing, accessories, shoes, bedding or towels you'd like to donate, please see the BACI Bin Map[3] for exact locations.
BACI also has smaller donation bins that can be placed indoors — in any workplace or other indoor space where people gather. Kudos to our indoor bin partners — Pacific Blue Cross[4], Vancity's Brentwood Branch[5], Traction on Demand[6], and Fair Haven Child Care Centre[7].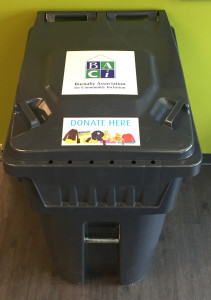 [8]All donations made at BACI Bins are bought by Value Village, and that money goes to support BACI's programs and services.
Donation bins are also a great way to keep items out of landfills, and to create employment for the people with disabilities on BACI's donation pick-up team. 
What can you do?
By donating to a BACI Bin, you can help us realize our goal – to support individuals of all abilities achieve their hopes and dreams, learn and grow, and connect with family and friends.
Proceeds earned from BACI Bins will provide:
Life-changing services for children and infants with disabilities;
Skill-building and employment opportunities for adults with disabilities;
Another step towards a society that includes all people.
Help us spread the word! Ask your friends & family to donate their used clothing in our BACI bins as well!

Drop-off Alternative:
If our bins are not located in an area that is easy for you to access, you can drop your clothing, accessories, shoes, bedding or towels off at our Still Creek Centre, 2702 Norland Avenue in Burnaby. Please see the Receptionist for drop-off details.

Pick-Up Service:
If you have a large amount of clothing items — or small household goods — to donate, you can call 604.299.7851 to arrange pick-up. Please note that depending on demand, it may take up to 72 hours for us to collect.
Host a Bin:
We're also looking for a few more high-traffic locations to drop our bins. If you have a business or commercial property (or know someone who does) where a BACI Bin would have high visibility for donations, please call 604-299-7851 or email carol.broomhall@gobaci.com[9].
For more information on hosting BACI Bins, please check out our Host a BACI Bin[10] page.
Host a Clothing Drive:
Not able to host a bin? Host a clothing drive at your work or school!
Get your co-workers or friends on board with our Clothing Drive flyer[11]!
For more information, please call 604-299-7851 or email carol.broomhall@gobaci.com[12]
Endnotes:
InclusionBC: http://inclusionbc.org/clothesdrop
: http://gobaci.com/wp-content/uploads/2015/03/Bin.jpg
BACI Bin Map: http://gobaci.com/bin-locations/
Pacific Blue Cross: http://www.pac.bluecross.ca/
Vancity's Brentwood Branch: https://www.vancity.com/ContactUs/FindBranchATM/?show=branchDetail&branch_id=43
Traction on Demand: https://tractionondemand.com/
Fair Haven Child Care Centre: http://gobaci.com/what-we-offer/children-services/child-care/fair-haven-childrens-centre/
[Image]: http://gobaci.com/wp-content/uploads/2016/06/BACI-Bins-Full-Size-bin2.jpg

carol.broomhall@gobaci.com

: mailto:carol.broomhall@gobaci.com
Host a BACI Bin: http://gobaci.com/host-a-bin/
Clothing Drive flyer: http://gobaci.com/wp-content/uploads/2015/05/clothing_drive_tag.pdf
carol.broomhall@gobaci.com: mailto:carol.broomhall@gobaci.com
Source URL: http://gobaci.com/bins-about/
---