BACI ~ Whole Foods Bag Donation Program!
BACI is thrilled to be chosen by the North Burnaby Whole Foods Market — at 4420 Lougheed Hwy — as the recipient of their Bag Donation fundraising program!
How does it work?
It's so simple! From now until December 31, 2016, all customers who bring their own re-usable shopping bags to the North Burnaby Whole Foods store can donate their bag refund to BACI. It's a simple thing to do when you're at the cashier, and it all adds up to a great way to support BACI's Community Kitchens for moms with disabilities.
These weekly kitchens help the moms and their children with disabilities learn about nutrition, how to shop for healthy foods, and how to cook healthy meals. They also offer the moms and their families access to fresh produce and proteins that they otherwise could not afford.
So next time you're thinking about buying some healthy and delicious food, check out the North Burnaby Whole Foods Market — and don't forget to bring your re-usable bag!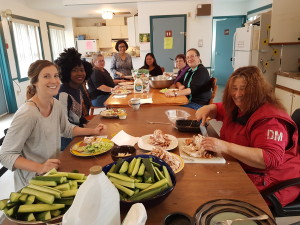 The Mom's Community Kitchen participants thank you for making a difference!