Our Donation Bins have been removed from unsecured locations. More information can be found  in our release
Make a difference in our community by hosting a bin!
You can make a big difference in the lives of people with disabilities in an easy, no-cost way – by hosting one of the donation bins that BACI is placing in key locations throughout Burnaby.
By hosting a BACI Bin, you will be:
Funding life-changing services for infants and children with disabilities;
Creating employment for people with disabilities who are on BACI's donation bin team;
Keeping items out of landfills.
You will also be:
Increasing foot traffic at your business location, and;
Recognized for making a positive contribution to your community.
What do BACI Outdoor Bins look like?
BACI's donation bins are pink, blue, orange and lime and feature our logo and
contact information. Each bin weighs approximately 350 pounds and is 54" wide,
43" deep, and 71" tall (4.5 ft x 3.5 ft. x 6ft.).
See the BACI Bin Map for current locations.
What do BACI Indoor Bins look like?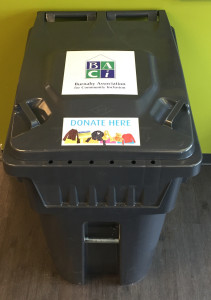 Our popular indoor bins are the size of a large plastic recycling bin on wheels, and are 23″ wide, 34″ deep, and 39″ tall (1.9 ft x 2.8 ft x 3.25 ft).
How are BACI Bins maintained?
As the bin owner, BACI is responsible for keeping bin locations neat and orderly. Our drivers maintain and empty the outdoor bins 5 days a week for your convenience. Additional pick-ups may be scheduled as needed. Indoor bin pick-ups are arranged on an as-needed basis.
How You Can Host Change:
We hope you will join us in making a difference in the lives of people with disabilities and their families, and in creating more caring and inclusive communities.
If you have a business or commercial property (or know someone who does) where a BACI Bin would have high visibility for donations, please call 604.299.7851 or email carol.broomhall@gobaci.com. 
Not able to host a bin? Host a clothing drive at your work or school!
Get your co-workers or friends on board with our Clothing Drive flyer!