Terrina's Volunteer Story
by Carol Broomhall | November 28, 2013 6:18 pm
Terrina is an energetic young woman who loves to be around other people. She is funny and engaging and makes people smile wherever she goes. Terrina is also very organized and likes to do a good job in every task.
Recently, Terrina started to share her gifts volunteering at the Journey Home Thrift Shop in Burnaby. At the Thrift Shop, her role is to tag merchandise, sort new donations and organize displays. She is providing a valuable service to others while developing new relationships.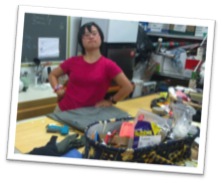 Source URL: http://gobaci.com/2013/terrinas-volunteer-story/
---
Click to listen highlighted text!