60 Days of Giving ~ And more!
by Carol Broomhall | August 9, 2016 4:35 pm
For BACI's 60th Anniversary, we wanted to give back to the people, businesses and organizations in our community who have supported us and shared our vision of "A society that includes all people."  During the months of April and May, we encouraged our staff, the individuals and families we support, and other friends of BACI to join us in 60 Days of Giving.
We were amazed at how many wonderful stories of giving emerged. Won't you join us in giving back to your friends, family, co-workers and community too?
Check out our Giving Tree page[1] for ideas of daily things to do, or visit our real Giving Tree at Still Creek Centre, 2702 Norland Avenue.
Keep us posted on what you've done! Leave a quick note at the Giving Tree, or Tweet it out via #BACIgives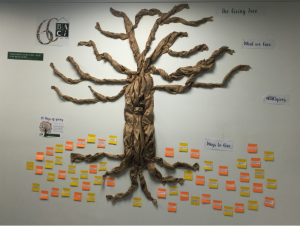 [2]
Endnotes:
Giving Tree page: http://www.gobaci.com/sixty/
[Image]: http://gobaci.com/wp-content/uploads/2016/02/Giving-Tree1.png
Source URL: http://gobaci.com/2016/60-days-of-giving-join-us/
---
Click to listen highlighted text!