BACI Receives $2 Million from Province for Affordable Housing Development
We are thrilled to announce that the BC Government has selected the Burnaby Association to receive $2 million in capital funding to develop affordable and accessible rental housing in Burnaby.
Richard Faucher, BACI's Co-Executive Director, stated, "BACI is pleased to have received a grant of $2 million through the Province's Investment in Housing Innovation program. This grant, combined with BACI's own investment, will provide nine units of affordable accessible housing and a state of the art re-design of one of BACI's long-standing inclusive child care centres. BACI looks forward to working in partnership with BC Housing and the City of Burnaby on this important project."
BC Housing will work with BACI to fully develop the project planning and consultation process. Construction is expected to begin in Fall 2017 and completion is projected for Spring 2018.
Richard Lee, MLA for Burnaby North, said, "Providing affordable housing options for people with developmental disabilities is a key part of furthering their independence. It also ensures that having a place to call home continues to be a possibility for all."
Read the full media release from the Province here.
If you have any further questions, please email richard.faucher@gobaci.com or call 778.888.1553.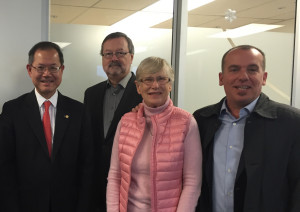 (Left to right) MLA Richard Lee, BACI Board Directors James Baird and Lois Woolley, and Executive Director Richard Faucher are very pleased by the news!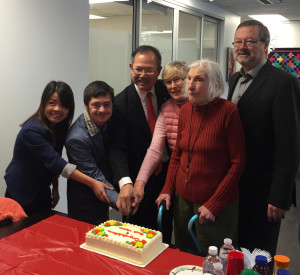 As always at BACI, great news is celebrated with cake!